About Us
The Excitement of Indoor Karting in Raleigh, NC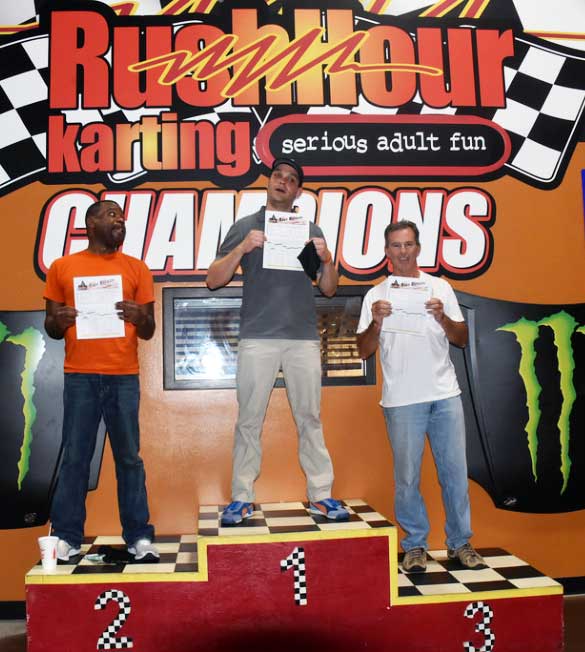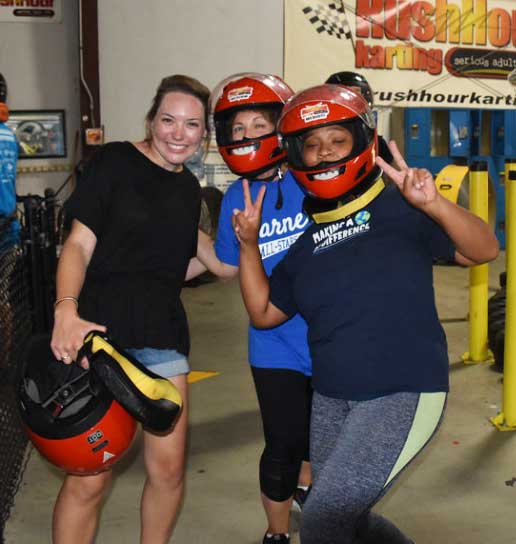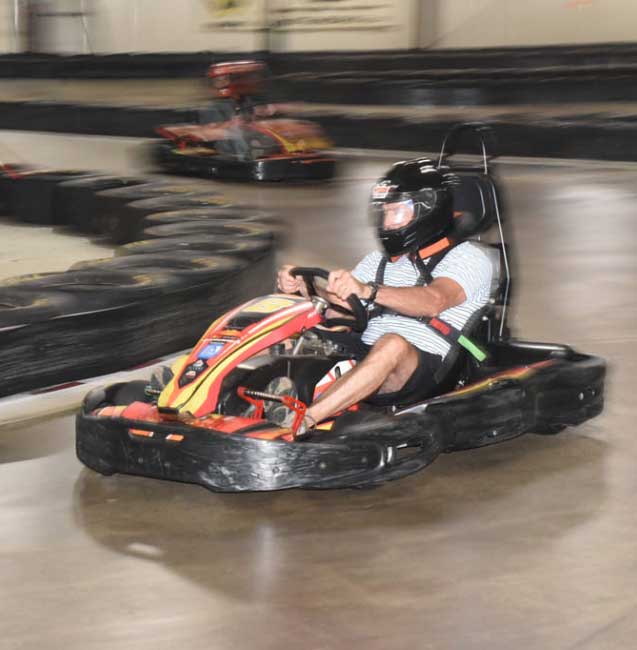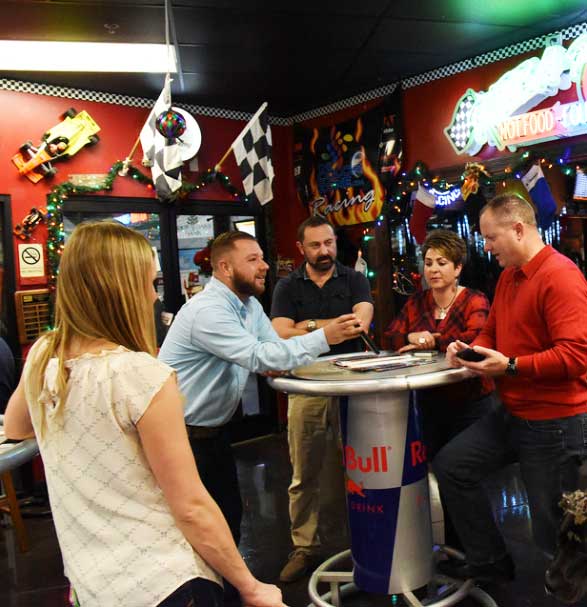 Rain? Snow? Too Hot? Too Cold? It doesn't matter here at Rush Hour Karting! We are an ALL INDOOR, HIGH SPEED KARTING facility. No matter what its like outside, its always race time at Rush Hour Karting! And, this is indoor racing like you've never seen before! We have European-designed karts that go almost 40 MPH! 
This indoor karting track is not like those family fun park & Putt-Putt karting tracks, oh no! The indoor karting track spans 1/3 mile, is full of hair pin curves, high speed straights, and winding turns! 
Looking for some fun summer activities in Raleigh when its hot outside? Check out the indoor carting excitement at Rush Hour Karting! After racing, cool down with some ice-cold refreshments in our tavern / sports bar overlooking the track!
Honda 200cc, 6.5 hp engines – Race at speeds up to 40MPH! – Adjustable pedal system – Adjustable XXL fully clothed seats – Improved safety features – Integrated brake lights – New double shoulder seatbelts – Jr Karts have newer & faster 160cc, 5.5hp engines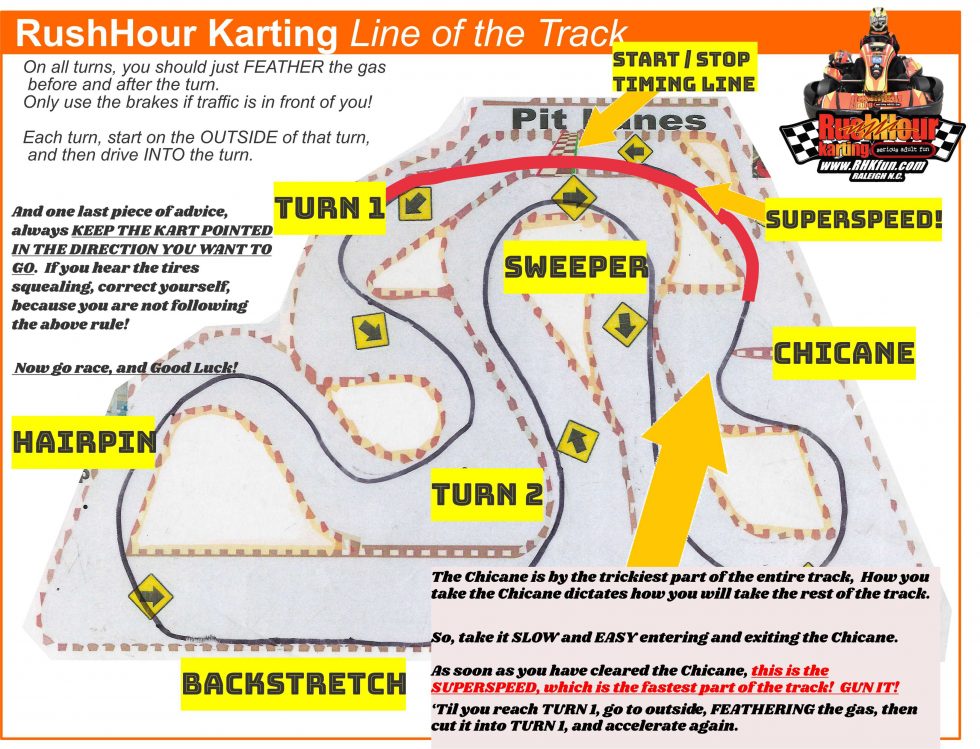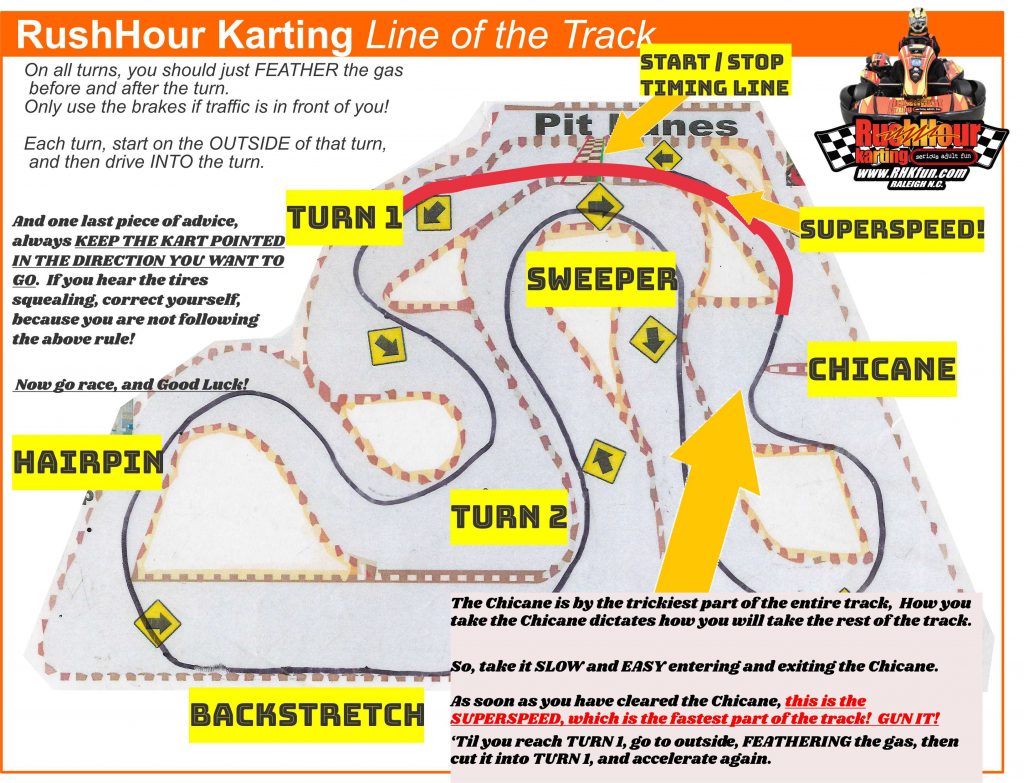 RushHour In The News:
Click on any of the videos/images below to watch the whole story!
Melissa (Davita)
Tuesday, April 16, 2019
Thanks so much. That was a lot of fun. Food was great. Ax throwing was even better! A "must do" again with our team. Your staff was really easy to work with too. 
Thanks for the hospitality! 
Barbara White
Thanks so much for the follow up. We had a great time. People are still talking about it. A couple of people including myself, were sore the next day.  The whole event was a great team building experience from start to finish. The bus was great because it made a way for the whole team to participate and stay for the entire event, which usually doesn't happen.    Now I have to try to find a way to top this event for our next meeting which will be in Columbia.
I'm sure we will be back again. I personally would like to bring my family. My teenage stepsons would love it. 
Thank you so much for the fun and photos and please give a special thanks to your mother for the food. It was exceptionally good.
Chris O'Neill (Kellogg Supply Company)
Tuesday, January 15, 2019
We had a great time. Yes, we were sore (lol)…but it was worth it.
We also really appreciated you opening up the axe throwing cages for
us…and providing a little training. Very cool and I hope that generates
lots of biz for you.
Your staff was great as well from the counter/checkin, training, fitting
up, racing, axes, and the bar. Professional and courteous.
Awesome little outing for some of our employees.
Thank you
Darrin Pownall (Johnson Brothers - Mutual Distributing of North Carolina)
Tuesday, January 15, 2019
Adam,
Everyone that attended had a great time. We got a lot of nice compliments
on the event and hopefully that will parlay into incremental business for
you as well.
We appreciate your support during the event and your staff were exceptional.
Thanks for all of the go kart rides and allowing us to practice. It paid
off as we were all in the top ten and had a shot for the top spot.
Believe me, we will continue to patronize your business as we had a blast
and it is a good way to break up the day and have a little fun.
Thanks again for all your help and support.
Renee (Model Home Interiors)
Tuesday, December 18, 2018
Hey Adam!
From what I am told everyone had a great time! Many were still sore
yesterday morning..LOL I was going over it with one of the owners yesterday
and she was saying how pleasant and upbeat you and your staff were. We
don't always get that at our parties. We both thought the BBQ was a great
option for lunch and was very good too.
Tom told me I did an awesome job picking a place for the party this year so
you know he was happy. I personally enjoyed working with you and your staff
as well. You made my job of organizing things a lot easier!
Thanks for everything!
I may see you soon because now my husband wants to go with our daughter one
weekend after the holidays.LOL She will be 16 next month and enrolled in
drivers ed. He wants to see if she is paying attention in class.Haha.
Thanks Again!
Robert Fultz
Wednesday, December 12, 2018
This was my first time at Rush Hour and had a blast. My kids had been there several times and really enjoy it. There were eight in our group and we did the eight minute practice round, followed by nine minutes of qualifying and then they lined us all up for a 10 minute main event. Staff was friendly enough and safety was of utmost importance. I would definitely return.
Mary (Tile Restoration, Inc.)
Monday, October 1, 2018
Good morning Adam, I wanted to take a moment to thank you and your staff for a GREAT team building experience for TRI. Your staff went above and beyond to accommodate us and our needs throughout the day. We appreciate your teams professionalism and attentiveness very much! Have a great day and hope to see you again in the future!
Rebecca (schooldude.com)
Wednesday, November 19, 2014
Hi Adam, Our team had a great time at Rush Hour! It was the perfect event to help us forget about the stress of our jobs and bond as a team. Thank you for hosting us!
June (BASF)
Tuesday, November 4, 2014
Thanks, Adam. We had a great time – everyone was talking about it still last week. Everything went smoothly, and I appreciated your flexibility to make sure we had a good time. You made the planning very easy for me, too! We will definitely keep RushHour in mind when planning future events.
Stephen (Astrazeneca)
Thursday, October 16, 2014
Thank you Adam, we had a great time. You have an incredible business going, best of luck. We wish we could have driven more. We are bunch of old folks and couldn't handle the spinning and turning. We absolutely enjoyed every second of it though.
Jackie (United Therapeutics Corp)
Thursday, September 25, 2014
Everything went great. Thank you for the awesome experience. We will definitely continue to visit Rush Hour for team building activities when we can
Thomas (Exel US)
Wednesday, September 24, 2014
The team had a great time. Still talking about it. No doubt we will be booking the event again in the future.
Paul (Bergen County Academies)
Monday, September 8, 2014
Adam, Thank you for the follow up. The event was GREAT! The kids had a blast, went better than I even imagined. Your staff was very flexible and accommodating—ALL of them worked extra hard to make sure our group had a good time, from the guys on the track to the girls at the front desk. You have a first class operation, and we were glad we were able to visit!
Jay (Caterpillar)
Tuesday, August 26, 2014
Hello Adam, Thanks for following up. We had a fantastic time. And Rush Hour treated us with great hospitality. Thanks very much for providing a great time with racing and good food.
Phil (Zurn)
Sunday, August 3, 2014
Hi Adam, I wanted you to know that the entire team had a blast! It was a great experience (racing, food, service), and one that we will surely do again.
Neil (Fidelity Investments)
Friday, April 29, 2011
My team and I had a blast yesterday at Rush Hour Karting. Your staff really took great care of us and your service was impeccable. Thank you for the team building event and I will certainly refer your service to all of my peers in other business units.
Amy (Verizon Wireless)
Friday, April 15, 2011
We had a great time and am sure we will be returning!!! Thanks so much for a great experience.
Jessica (4-H Club)
Monday, April 11, 2011
Thank You so much for hosting our 4-H club. We had such a fantastic time! We ended up doing several laps and eating there as well and it was just a fantastic evening for all. We will be back this month for my husbands birthday and we're already looking forward to it. (Did I mention we love Rush Hour!)
Brittany (Fidelity Bank)
Wednesday, March 31, 2010
I was able to make it out last Thursday. A teller from my branch came with me to the event. We both greatly enjoyed everything that was there. The food was spectacular as well as the new meeting room and racing. That, however, was not my first time at Rush Hour. Last year, a company I was working for had their Christmas party there. I must say that the food was considerably better this visit. After talking a bit with the bartender, she mentioned that there was a recent change in ownership. It appears to me that you all are doing a fantastic job there and look forward to letting everyone know how great your place is. Thanks again for a great evening!
David (Dell Computers, Inc.)
Thursday, March 04, 2010
We had a great time last week and so did the customers.
Tyler (Hosted Solutions)
Wednesday, February 24, 2010
We had a great time last night. Being that the Hosted Solutions team won, made it that much better!! I'm addicted man! I'm checking into the leagues out there. You may be seeing more of me that you want!!
Anne (East Carolina University, School of Business)
Tuesday, December 29, 2009
Thanks, Adam! Everyone really enjoyed it (although we were all sore on Sunday!). We will be back for sure.
Jason (N.C. Dept Of Transportation [DOT])
Friday, December 18, 2009
I am most definitely "boss of the year"! The gang had a blast … and have been talking it up with the rest of the crew here at work. (There's about 160 in our unit … several hundred in our two buildings.) We should be able to bring you a bunch of new drivers starting next year. (We have a lot of NASCAR fans here at NCDOT, as you might imagine.) Thanks again!
Policies and Procedures for Indoor Karting
At RushHour Karting, our primary concern is to ensure the safety of all guests and staff. Therefore, we have mandated numerous safety precautions to ensure your experience is always safe and fun at RushHour Karting.
All drivers must sign a release form before racing at RushHour Karting. Adult drivers must be at least 15 years of age. Junior racers must be at least 8 years of age and at least 48″ tall to operate the junior go-karts. A parent or guardian must sign the release form for racers less than 18 years of age. Drivers MUST wear closed toe shoes; no sandals or flip flops!
RushHour Karting believes in a zero-tolerance policy regarding alcohol and controlled substances. Anyone who appears to be under the influence of alcohol or any other controlled substance will not be permitted to drive.
Indoor karting is not a contact sport. We do not tolerate any bumping or blocking. The inability to pass another kart is no excuse for contact. Anyone driving aggressively without regard for our rules or the safety of others will receive a warning for the first incident. A second violation will result in the removal of the driver from the facility. 
Review Our Policies
All drivers must wear a helmet while driving the go-kart.

Open toe shoes are not permitted.
During the ride it is prohibited to leave the kart. At all times, drivers must stay in the kart and wait for track personnel instructions. If the kart becomes stuck on the track, raise your arm to signify trouble and wait for track staff to assist you.
Pay attention to any

 

flag or warning lights

 

displayed on the track during driving sessions.
The throttle pedal is under your right foot, and the brake pedal is under your left foot. The two pedals should never be applied simultaneously.
For safety reasons, pregnant women; people with neck or back problems, heart conditions or seizures/epilepsy; or people who should not be in stressful or physically demanding environments should consult a doctor before participating in indoor go-kart racing.
GREEN = START / RESTART
Signals the start of a race or a restart after a caution period.
YELLOW = CAUTION
Indicates unsafe driving conditions on the track.  Slow down, drive with caution and hold your position.
RED = STOP
Stop Immediately! The track is blocked or unsafe.
BLUE = MOVE OVER
A faster driver is approaching.  Ease off the throttle and move out of the ideal driving line.
BLACK = CONSULTATION
Proceed to the pit lane immediately and wait for staff instructions.
CHECKERED = FINISHED
The driving session is complete.  Enter the pit lane slowly.