Small Groups at Morrisville (RTP)
Families, Parties, etc.
Small groups. Big thrills.
Whether with friends, family, or both, we can help make your next group outing an event to remember. If you have under 20 racers in your party, everything you need for a memorable experience is all in one place — fun-filled activities, food and drinks including a full bar, games and so much more.
Group Discounted Rates:
$40 for 2 races per person (min 5 people)
$50 for 3 races per person (min 5 people)
$60 for 4 races per person (min 5 people)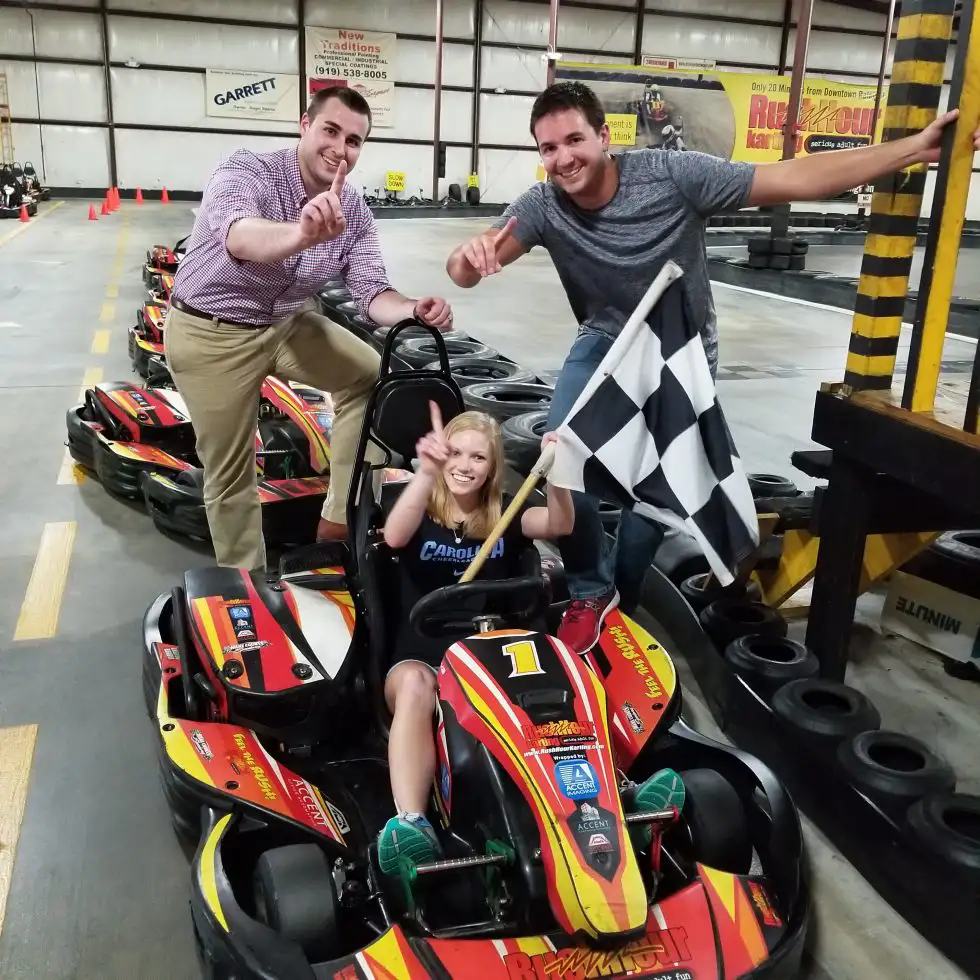 Go beyond a standard heat.
A standard heat is an 8-minute race around our track. Go a step further with a sprint race or grand prix format. Available for adult riders only.
Sprint Race
$60/person (min. 8 people)
Recommended for 8-12 people
5-Minute Practice
6-Minute Qualifier
10-Minute Race
Must be 15 years old+
Grand Prix Race
$70/person (min. 8 people)
Recommended for 8-20 people
Same as Sprint Race
PLUS 10-minute finale for the top 10 races
Must be 15 years old+
Amazing amenities to create your perfect event.
Food & Drink
Before, after, or in-between races, make your way to our full-service restaurant, bar and sports tavern for the ultimate pit stop. Executive Chef Alvin Cotto invites you to experience our delicious brined, grilled, and roasted wings, flaming poppers or incredible half-pound burgers.
Giant-screen TVs with live sports action
Billiards
Foosball
Arcade games
Free Play Unlimited Games Add On – Learn More
And more
The Masters Meeting & Golf Room
When you aren't driving down the fairway or chipping in for a birdie, lounge out on our luxurious couches and connect with your group in a warm and comfortably intimate setting.
Key Features: 
Capacity for up to 20 people
Large executive conference table
Seamless audio & video hookup
Direct access to golf simulators
In-house catering available
Legends & Champions Meeting Room
Large group? Big gathering of reps and field teams? RushHour Karting has got you covered. Our flexible meeting spaces can be scaled as needed and accommodate up to 200 people. Ideal for corporate retreats, sales presentations, or even large-scale family reunions.
Fully equipped to handle your AV presentation and projector needs
In-hour catering available
No need to move offsite (everything is right here)
Arrive in style
Reserve our luxury Limo Bus ………… $475 roundtrip Holds up to 34 guests
Don't forget trophies!
We invite you to purchase preexisting trophies for your group or order some custom-labeled ones.