Small Groups at Garner
Families, Parties, etc.
Small groups. Big thrills.
Whether with friends, family, or both, we can help make your next group outing an event to remember. If you have under 20 racers in your party, everything you need for a memorable experience is all in one place — fun-filled activities, food and drinks including a full bar, games and so much more.
Group Discounted Rates:
$40 for 2 races per person (min 5 people)
$50 for 3 races per person (min 5 people)
$60 for 4 races per person (min 5 people)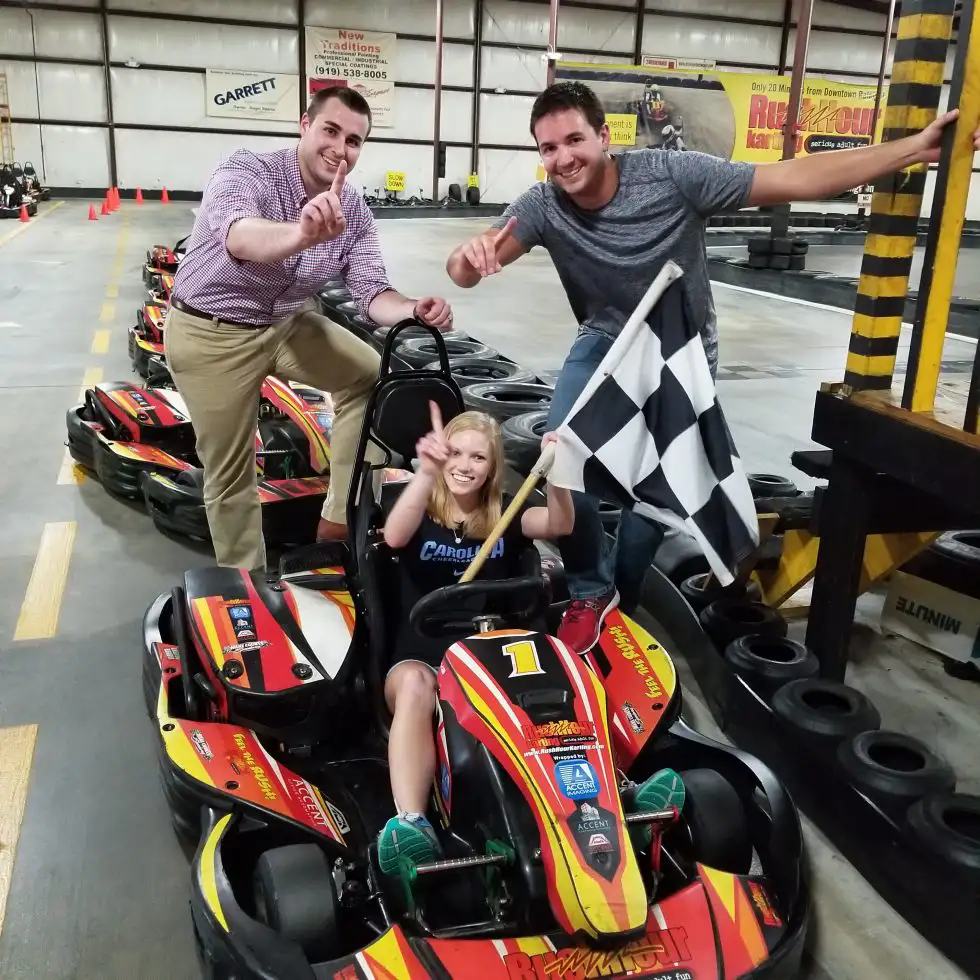 Go beyond a standard heat.
A standard heat is an 8-minute race around our track. Go a step further with a sprint race or grand prix format. Available for adult riders only.
Sprint Race
$50/person (min. 8 people)
Recommended for 8-12 people
5-Minute Practice
6-Minute Qualifier
10-Minute Race
Must be 15 years old+
Grand Prix Race
$60/person (min. 8 people)
Recommended for 8-20 people
Same as Sprint Race
PLUS 10-minute finale for the top 10 races
Must be 15 years old+
Amazing amenities to create a perfect event.
Food & Drink
Make a pit stop at the Pizza Pit Sports Tavern. A sports bar overlooking the track, the Pizza Pit is where to kick your party into high gear with fresh, homemade pizzas, gourmet burgers, hot dogs, salads and more. Or choose to order from our catering menu.
High-def plasmas TVs with all the best sports
Enjoy a giant 110″ high-def projector
Pool table and video games (Free Play Unlimited Games Add On – Learn More)
Beer and wine available
Private VIP room for corporate functions
Exclusive Executive Room
Located right on the track, our plush VIP Room is available for up to 30 guests. There are tables to accommodate buffets, platters, and drinks. And catering is available from our own on-site restaurant, with several 
catering options
.
Projector with giant 133″ screen, for laptop hookup
High-def DirecTV service on the 133″ screen
Speakers all over the room
High-speed internet
Conference calling phone with wireless mic
Independent climate control system
2nd FLOOR VIPER VIP LOUNGE
Get a bird's eye view of the ENTIRE track from
Enjoy the latest high-tech video games
Unwind with a game of billiards, ping pong or shuffleboard
Chill out in super-comfy cabana-style furniture
Don't forget trophies!
We invite you to purchase preexisting trophies for your group or order some custom-labeled ones.