Karting Academy Summer Camp
RushHour Karting Academy Near Garner, NC
Looking for a fun way for your kids to get out of the house and enjoy some thrilling fun? RushHour Karting Academy gives kids the chance to tear up the track every day and learn sportsmanship and valuable driving skills. Between racing, great food, and all kinds of sports and activities, there's never time to be bored at our track near Raleigh, North Carolina.
We hold a RushHour Karting Academy every week of the summer.
Kids ages 8-14 are welcome to sign up.
Camp goes from 7 a.m. to 6 p.m., Monday through Friday.
Each session is capped at 32 kids, so register soon.
Audrey
"We had an amazing time. I can't tell you how many smiles I saw, and believe it or not, I think the adults had a better time than the kids! The food was divine. The service, impeccable. Thank you once again for making an incredible memory for us. "
Chris
"I wanted to thank you and your staff so much for creating such a great experience for Jonny this past week at camp. When I came to drop Jonny off in the mornings and pick him up in the afternoons the staff at the front desk were always so friendly and helpful. The counselors were great with him as well. It is truly comforting to know that he was in great care and having an awesome experience at the same time. He will definitely be doing this again!"
Patrick via Facebook
"The kids have a ton of fun and become very fast racers. If anyone is looking for a very affordable camp that has your kids wanting to come back every day, Rush Hour Karting Camp is it."
Amanda
"Logan is going to start racing quarter midgets—in addition to racing with you all of course!!! I'll say it forever, but sending Logan to camp last summer and learning everything from your amazing staff (specific shout out to Chris) was a game changer for him in so many ways. And he still learns something every time he goes—he had a blast at Spring Break camp. We appreciate you all!!"
Amanda
"My son's week was incredible….he came out of his shell and we saw his confidence sky rocket. He had so much to tell us each day about what he learned and did. We are huge fans of Rush Hour and happy to shout you guys out. Well done, you've got a really good thing going there."
Chris
"That's so great thank you.  Drew is having the best time, loves the counselors…thank you Adam for making his summer so great.  Appreciate it.  "
Patrick
"So glad that we found this summer camp! My son has said over and over the last two days that it has been his favorite camp all summer. My only regret is that we did not sign up for more camps. We will definitely be back next summer and hopefully for some Junior League racing!"
Tiffanie
"I wanted to share with you that the girls…and the boys….LOVED the camp a few weeks back. They can't stop talking about it!"
Team Costa
"I took camp here and it was super fun. They teach you where you turn to go faster, and in the first two days I was there I cut down 5 seconds on my best lap! Great staff, and experienced with the karts and they are very nice!"
Melissa
"Thank you so much!! Cameron said he had a fabulous time at the zoo yesterday. Sending Cam to Rush Hour for camp has been one of the best decisions that we have ever made. I think Cam is excited that school won't be back full time so he can still go to camp with you guys!! Have a great day and we look forward to seeing you tomorrow morning!"
Laura
"Hi Adam! I know I should probably only use this number for emergencies, but …Eleanor is registered for camp next week and is super excited about Dan the Animal Man. She also loves the endurance racing. Thank you for giving her some fun in this strange new world!"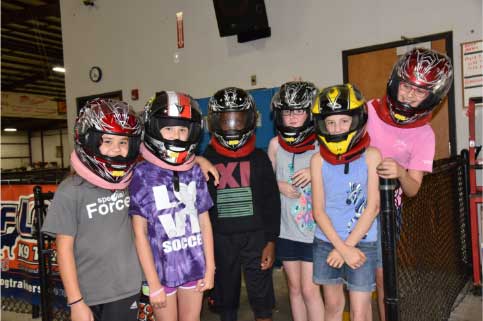 A Regular Day at Karting Summer Camp
7 a.m. – 8 a.m. – Early Drop Off (If Needed)
8 a.m. – 9 a.m. – Breakfast
9 a.m. – Noon – Karting Academy
Noon – 1 p.m. – Lunch
1 p.m. – 5 p.m. – Activities or Field Trip
5 p.m. – 6 p.m. – Pickup
Karting Academy
At our Karting Activity, campers will get to learn about proper passing, racing lines, racing theory and etiquette, and more before putting them to the test on the track.
Activities
Our activities give kids the chance to get outside, meet new friends, and burn off a little excess energy. Our in-house activities include:
Basketball
Football
Soccer
Crafts
Games
Team-building activities
Wall-climbing
Inflatables
Field Trips
Every week, an off-site field trip is planned, usually on Fridays. These will be posted on our weekly calendar. Updates will be made to the calendar if the field trip plans change. Field trips may include:
Swimming
Movies
Bowling
Ice-skating
Mini Golf
If swimming is the planned trip, your child will have to take a swim test to swim in the deep end of the pool. They can bring life vests or floaties.
Food
Breakfast, lunch, and two daily snacks will be provided on-site. Make sure to let us know if your child has any food allergies before camp. Although we cannot make accommodations for special dietary restrictions, you're welcome to send your child with a packed lunch.
A Few Basic Rules
We have just a few rules that will make each child's camping experience go as smoothly as possible.
Drop off ends at 8:30 a.m., and pickup ends at 6:00 p.m.
Each child needs to be signed in and out by a parent or guardian.
For your child's safety, closed-toed shoes like tennis shoes are required.
Please leave your child's cell phone at home.
Three camp t-shirts will be provided at the start of camp. Campers should wear these whenever at camp, as it makes it easier to keep track of them for activities and field trips. If you forget a shirt, a new one can be purchased for $10.
We recommend that you label your child's shirts and possessions.
Kids and parents will need to review and sign our disciplinary policy.
Your child will be spending a lot of time outside, so make sure they come prepared with spray-on sunscreen.
Payment Information
All payments must be made one week before camp to secure your spot. We charge on a weekly basis and are not able to prorate days. If your child needs to miss a week, we need to be informed two weeks in advance to provide a refund.