Karting Academy Camp Details
Summer Camp in Garner, NC
Ages 8 to 14
From June 11, 2018 to August 24, 2018
MON thru FRI *7am till 6pm
Maxed out at 32 kids ONLY!!!
1st HALF OF THE DAY:
KARTING ACADEMY everyday 9am-12pm
DRIVING SKILLS TAUGHT:
Proper Racing Line
Racing techniques / Flags / Rules
Passing properly
Sportsmanship & Racing Ettiquette
2nd HALF OF THE DAY:
Assortment of Activities, including:
Basketball
Soccer
Football
Variety of crafts / games / team-building activities
Weekly inflatables / wall-climbing / rides & games
ONLY
$350 per week
NO registration fee, Includes:
Breakfast

2 Snacks

Lunch (cooked in house)

All Activities & Supplies

Weekly Field Trip
1 FIELD TRIP EACH WEEK, INCLUDING:
Swimming
Movies
Bowling
Ice-Skating
Mini Golf
Things to know before Karting Academy / Summer Camp
Payments: All payments must be made at least 1 week prior to first day of camp, to guarantee your spot. We DO NOT prorate days. Spots are sold on WEEKLY basis only. If your child will not be attending a certain week, we will need a two week notice, or no refunds will be given. No refunds / partial refunds are given for missing any days of their allotted week.
All kids must be at camp no later than 8:30 am and must be picked up no later than 6:00pm.
You must sign your child in and out. Do not drop your child off without seeing a counselor.
NO CELL PHONES: We have had kids on their phones, used for the wrong reason, and abused, so we will not allow them at camp.
DISCIPLINE POLICY: Must be reviewed and you must sign this registration form indicating you agree to it.
T-SHIRT: 3 t-shirts will be provided to each camper. All kids must wear a camp T-shirt each day. If your child comes to camp without a Camp T-shirt, we will have them for sale for $10. You will either have to purchase a new one, or go home and get one. It is suggested you put your child's name on his / her shirt, and anything else they bring to camp.
SHOES – The best thing to wear is CLOSED TOE / TENNIS SHOES.
It is required that you bring SUN SCREEN, in the spray-type, for the kids to participate in outside activities and for field trips. We will not rub any Sun Screen on any child. Please put your child's name on their Sun Screen.
General Itinerary:
7am, Early Dropoff
8 – 9am, Arrival and Breakfast
9 – 12noon Karting Academy
12noon – 1 Lunch
1pm – 5pm In-house Activities:
Kids will be divided into 1/3 — 3 groups with 10 kids in each, alternate activities daily
GROUP 1: Outside Sports (basketball, soccer, dodgeball, etc.)
GROUP 2: Blow Up / Bouncy House / Misc. Inflatables
GROUP 3: Activities in the Meeting Room (board games, projects, tye-die shirt making, puzzles, etc…)
Camp ends at 5pm, please pick up your campers by 6PM at the latest
Rush Hour Karting
5335 Raynor Rd
Garner, NC 27529
(919) 662-9101
Breakfast will be from 8am till 9am. If your child arrives at 9am, he or she will miss breakfast, and their first meal will be the snack.
Food Menu are as follows:
BREAKFAST:
Fruit, Cereal, Milk, Juice, Pop-Tarts, and Muffins
LUNCH:
SNACKS: Each day, 2 snacks will be offered. One between Breakfast and Lunch; and the other at the end of the day. Snacks will vary, i.e., Fruit, Cookies, Potato Chips, Popsicles, etc.
Special Diets & Allergies
Any Special Food Needs / Alergies must be disclosed before starting Camp. We cannot meet special dietary needs, such as Glutten Free, or Peanut Free foods. You are welcome to bring in your own lunch, but we must know to be prepared.
COVID-19 CDC GUIDELINES
Constantly throughout each day, we are following all CDC guidelines.  We are sanitizing everything, including all karts and helmets between races; we are distancing as best we can; and we are wearing masks when around others.
Field Trips:
We will plan one Field Trip each week, preferably on Fridays. We will have the specific activity on your Weekly Calendar. Examples of Field Trips: Marbles Museum, Defy Gravity, Pelican's Sno Balls, Galaxy Fun Park, Pullen Park, etc…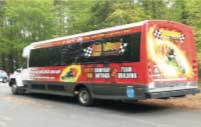 Food and Field Trips are subject to change at anytime. We will post any changes on a weekly calendar, available each Monday morning when you drop your child off. We have drinks offered at all times, and on field trips – Water, Juice, and Milk
Your child can bring money for the snack bar on field trips. We will keep your child's money in a Ziploc bag with their name on it, if you desire so.
Swimming
Some of the outings will involve swimming. To participate, campers will be required to take a swim test to swim in the deep end of the pool. They can bring life vests or floaties. You can choose to opt out of these activities in the registration form. Bring items in a back pack or bag, and put your child's name on everything. (shirts, sun screen, shorts, shoes, EVERYTHING!)
Swimming
Some of the outings will involve swimming. To participate, campers will be required to take a swim test to swim in the deep end of the pool. They can bring life vests or floaties. You can choose to opt out of these activities in the registration form. Bring items in a back pack or bag, and put your child's name on everything. (shirts, sun screen, shorts, shoes, EVERYTHING!)
Monday
8:30-9am:
Registration and breakfast
9-9:30am:
Introduction for campers and instructors
9:30-10am: 
"Ice Breaker"
10-10:30am:
"Briefing" Flag theory and on track communication
10:30-11am:
Kart introduction & sizing
11am-12pm:
Practice driving heats
12-1pm:
Lunch
1-5pm:
Activities
Tuesday
8:30-9am:
Breakfast
9-10am:
Warm up heats
10-10:30am: 
Racing line discussion (full group)
10:30-12pm:
Driving and instruction when off of the track
10:30-11am:
Kart introduction & sizing
11am-12pm:
Practice driving heats
12-1pm:
Lunch
1-5pm:
Activities
Wednesday
8:30-9am:
Breakfast
9-10am:
Warm up heats
10-12pm:
Racing theory, qualifications, and passing vehicle dynamics in between heats
12-1pm:
Lunch
1-5pm:
Activities
Thursday
8:30-9am:
Breakfast
9-9:30am:
Divide drivers into groups
9:30-10:30am: 
Warm up and qualifications
10:30-12pm:
10 to 15 minute long Races
12-1pm:
Lunch
1-5pm:
Activities
Friday
8:30-9am:
Breakfast
9-9:30am:
Short warm up heats
9:30-12pm:
Endurance races
12-1pm:
Lunch
1-5pm:
Field Trip
CHOOSE REGISTRATION OPTION: